Previous Post
Quote:

"The main problem Obama has is he's the wrong color. I'm not name-calling or anything. I'm calling it as I see it."
Quote:

Yes, we all know that if he were a white junior senator from Illinois named Joe Smith, he would most certainly have beaten Hillary in the primaries. Luckily we have been blessed with his wonderful empty rhetoric for the past 6 years.

Empty rhetoric? The Affordable Care Act has given 10 million people health insurance, stopped insurance companies from discriminating based on pre-existing conditions and eliminated life-time caps. It's also costing less than expected with premiums being lower than initially forecast. Obama saved the auto industry and drastically improved fuel efficiency standards. Obama eliminated Osama bin Laden and helped remove Moammar Gaddafi. Obama ended the disastrous Iraq War and Bush's torture policies so no more Gitmo fiascos. Obama cut the deficit by more than half. Climate-friendly solar and wind technology have become much more efficient. Under Obama, the stock market has tripled and hit its all-time high. Under Obama, unemployment has nearly halved going from 10% to 5.6%, which is better than Reagan's unemployment numbers.
Obama passed a big (though from the progressive perspective insufficiently big) stimulus, and over the past five years, over ten million jobs have been created. Under Obama's first term, more net jobs were created than in both of George W. Bush's two terms combined. Empty rhetoric was the Bush administration touting an Iraq War where we'd find weapons of mass destruction, where "mission accomplished" was declared right away, where we'd be greeted as liberators, and that it would pay for itself (instead of costing more than $1 trillion).
You can see here that 3 months after Obama took office, huge job losses started reversing course:
2014 was Obama's best year yet, and the best year for job growth since Bill Clinton: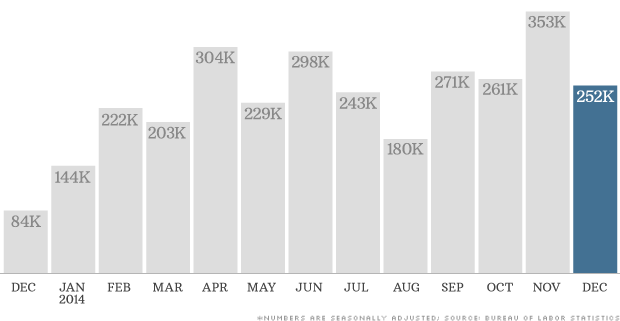 You're clearly so enamored with Obama that we're fortunate for your
copying and pasting nice graphs from the internet that you've googled.
Can you please tell us what exactly Obama did as president to produce
these wonderful economic results?